Music is a key part of all modern video games. You only have to look at Persona 4's oddball mix of cheesy rock 'n' roll, electronica, and pop, or the grandiose instrumentation of God of War to see how far music in video games has come. Game developers will commission musicians for the sole purpose of crafting a game's musical score. But video game music wasn't always seen as an important part of a game's makeup. On the contrary, it had very humble beginnings, and was often considered an "afterthought in terms of game design," according to Glenn McDonald in Gamespot's look back at the history of video game music. In fact, the earliest video games — a "crude tennis-like game" made in 1958, and later a game called Spacewar developed in 1963— had neither sound nor music.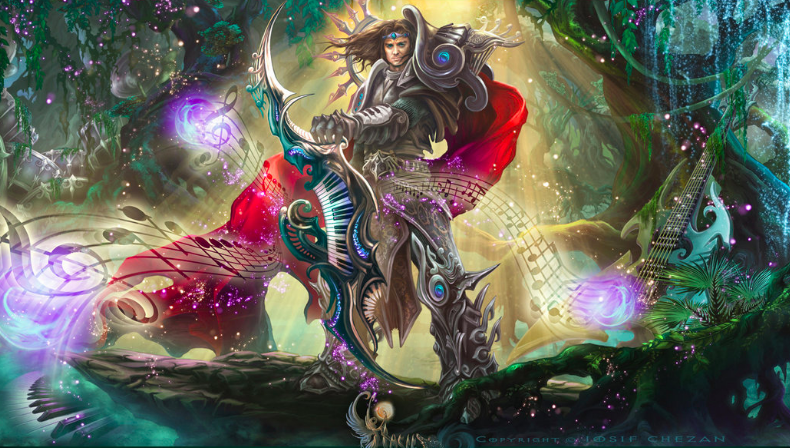 In 1972 came the first major breakthrough in terms of incorporating sounds into a video game. Developed by Nolan Bushnell, Pong featured a sonar blip sound that was generated whenever the digital ball was batted back and forth. The sound was oddly hypnotic, and it represented the first intersection between music and video games.

By the 1980s, music in video games started to become more sophisticated, largely due to advancements in technology within the industry. More games started to feature a semblance of an actual soundtrack alongside the sound effects. In this regard, the pioneering efforts of Manami Matsumae and Yoko Shimomura in Japan deserve to be mentioned. The two women painstakingly programmed every musical note (using only three channels) for several Capcom games in the 1980s.

1985 saw the release of Super Mario Bros from Nintendo. Andrew Schartmann's book Koji Kondo's Super Mario Bros. Soundtrack argues that the Japanese composer is responsible for creating the relationship between video games and pop music. Koji was Nintendo's first dedicated sound designer, and although his Super Mario Bros. soundtrack only includes three minutes of original music, it was the first soundtrack to replicate "the experience that the player is having".

The 1990s ushered in a new era for video game music. It was in the 90's that popular music started to be used in games. Composer Yuzo Koshiro created upbeat, electronica-style soundtracks for the Street of Rage series and The Revenge of Shinobi. And, one of the most famous examples is the FIFA: Road to World Cup 98 intro that used Blur's Song 2. The song choice was pure genius from a marketing standpoint as it created the perfect mix for a football game: a World Cup year, superstar David Beckham as the cover athlete, and sky-high expectations for Beckham's native England to do well in the actual tournament. Led by captain Alan Shearer, England only made it to the second round before being knocked out by Argentina. England may have failed to win the World Cup that year, but FIFA: Road to World Cup 98 most definitely won, becoming a bestseller in the UK and establishing the dominance of the FIFA series. Its soundtrack garnered much praise along the way, with 'Song 2' being put forward as a key component of the game's success. EA Sports would go on to use this format for their NBA Live and Madden franchises.

By the turn the millennium, video game music slowly began to reach the same prestige as film scores. Several famous film composers crossed mediums to create scores for video games. Oscar winning composer Hans Zimmer famously created the score for Call of Duty: Modern Warfare 2 in 2009, and declared video games to be just as valid an art form as film. A pinnacle for music in video games came in 2013, when Austin Wintory's score for Journey was nominated for the Best Score Soundtrack For Visual Media Grammy. The composer competed against Hans Zimmer (The Dark Knight Rises) Howard Shore (Hugo), John Williams (Tintin), and the winner Trent Reznor Atticus Ross (The Girl with the Dragon Tattoo). Game music being recognized at one of the most prestigious awards ceremonies within the music industry, was a sign to how far video game music had evolved.

Today, video game music has grown into its own genre with dedicated concerts put on all across the globe.