"Tell Me Why" is a single-player narrative adventure game developed by DONTNOD, published by Xbox Games Studios, and available on Xbox consoles, Windows 10, and Steam. For Part 2 of the audio diary, click here.

In this intimate mystery, reunited twins Tyler and Alyson Ronan use their special bond to unravel the memories of their loving but troubled childhood. Set in the fictional town of Delos Crossing, Alaska, Tell Me Why features a cast of intriguing, true-to-life characters and mature themes. As you interact with memories of the past, you will make choices that determine the strength of the unique bond that Tyler and Alyson share—and shape the future course of the twins' lives.

Tyler Ronan is one of the two playable characters of "Tell Me Why." He is Alyson's identical twin brother, a 21-year-old transgender man. DONTNOD and Xbox Studios Publishing have set out to ensure that our portrayal of Tyler's gender is meaningful. We partnered closely with GLAAD from the very beginning of "Tell Me Why'' development to ensure that Tyler is a thoughtful portrayal of a young transgender man and help create an inclusive gaming experience that invites more people to play. GLAAD has been a terrific partner, helping us with script reviews and casting as well as LGBTQ+ community outreach.

"Tell Me Why" has a larger cast of wonderful characters, all of whom have their own unique roots in small town Alaska. Two Tlingit characters appear in Tell Me Why. One is Michael Abila, Alyson's coworker and best friend. Another is Eddy Brown, the police chief of Delos Crossing.

From a technical perspective, Tell Me Why has been developed with Unreal Engine 4.22 and Wwise 2019.1.4.

We have also used in-house Dontnod audio features and custom tools: ambiance & propagation system, sequencer improvements and custom Wwise plugins.

The audio team was composed of six people: Victoria Guillon (Sound Designer), Robin Richard (Sound Designer), Kélian Holstein (Audio Programmer), Corentin Séchet (Audio Programmer), Mathieu Fiorentini (Sound Designer) and Louis Martin (Audio Lead).

We've also worked with Frederic Devanlay (Big Wheels Studio / Red Libraries) for audio assets creation and Ryan Lott was the original music composer.

AMBIENCE / ARTISTIC DIRECTION
Going to
Alaska
One of the biggest challenges for the audio team was to look into the amazing settings of the game from an audio perspective. Fortunately, a few people of the Dontnod dev team had the chance to travel there with Microsoft in September 2018: the game director, the narrative director, the Art Environment Lead and the Audio Lead. We've spent two weeks in Juneau and Hoonah, which are two close references for Delos Crossing. Going to Alaska was a unique opportunity for the audio team in particular. Because every place has its own audio identity, according to its vegetation, its wildlife or the human activity. Every place has its own sonic identity - for example, the firemen siren in NY. And it was essential to experience these places in order to translate the atmosphere into the game.
We have been in complete immersion, met a lot of people in Juneau and Hoonah: mayor, association, local police... We took the time to stroll in different places: residential zone, forest, lake... Having two weeks, and not only a few days, let you the time to feel the mood of these places.

We've spent time making field recordings: it was more about bringing back audio reference, than making a high quality Soundbank. We've also spent a lot of time listening and taking notes about the environmental sounds.

It was crucial to define the audio artistic direction we wanted for Tell Me Why, and especially to craft our ambiance in the game. For example, the nature is very quiet in this part of Alaska. We expected to hear a lot of animals, to have a dense and luxuriant nature somehow. On the contrary, "air tones" are quiet which makes all the details easy to listen: every single bird or sound in the forest can be heard. It brought something mysterious somehow. That's why we've built a subtle and peaceful ambiance in the game, particularly around the Ronan House.
It was also important to understand what were the most iconic sounds in the environment and to experience the soundscape identity.

Boat and plane are the only means of transport to reach Juneau and Hoonah, like many other towns in South Alaska. Driving a car is useful for short and local trips only. It means that, except close to harbor or fast lane, the sound environment is noticeably quiet. It was very easy to listen to slight details nearby and it was then possible to hear sounds from a very long distance.

A few days after we arrived, we understood that boats and seaplanes shaped completely the audio environment of these places. For example, the most iconic sound we've heard was the seaplane engine. There were many of them landing and taking off from Juneau every day. Small local fishermen boats are an important part of the soundscape too. Since the environment is rarely noisy, it's possible to hear them coming from a very long distance: at the beginning the engine sound is very diffused, then it becomes more and more defined. The sound resonates in the wide & open landscapes too, meaning there are a lot of natural reverberation/delay and timbre/filtering effects.
VOICE-OVER
VO Casting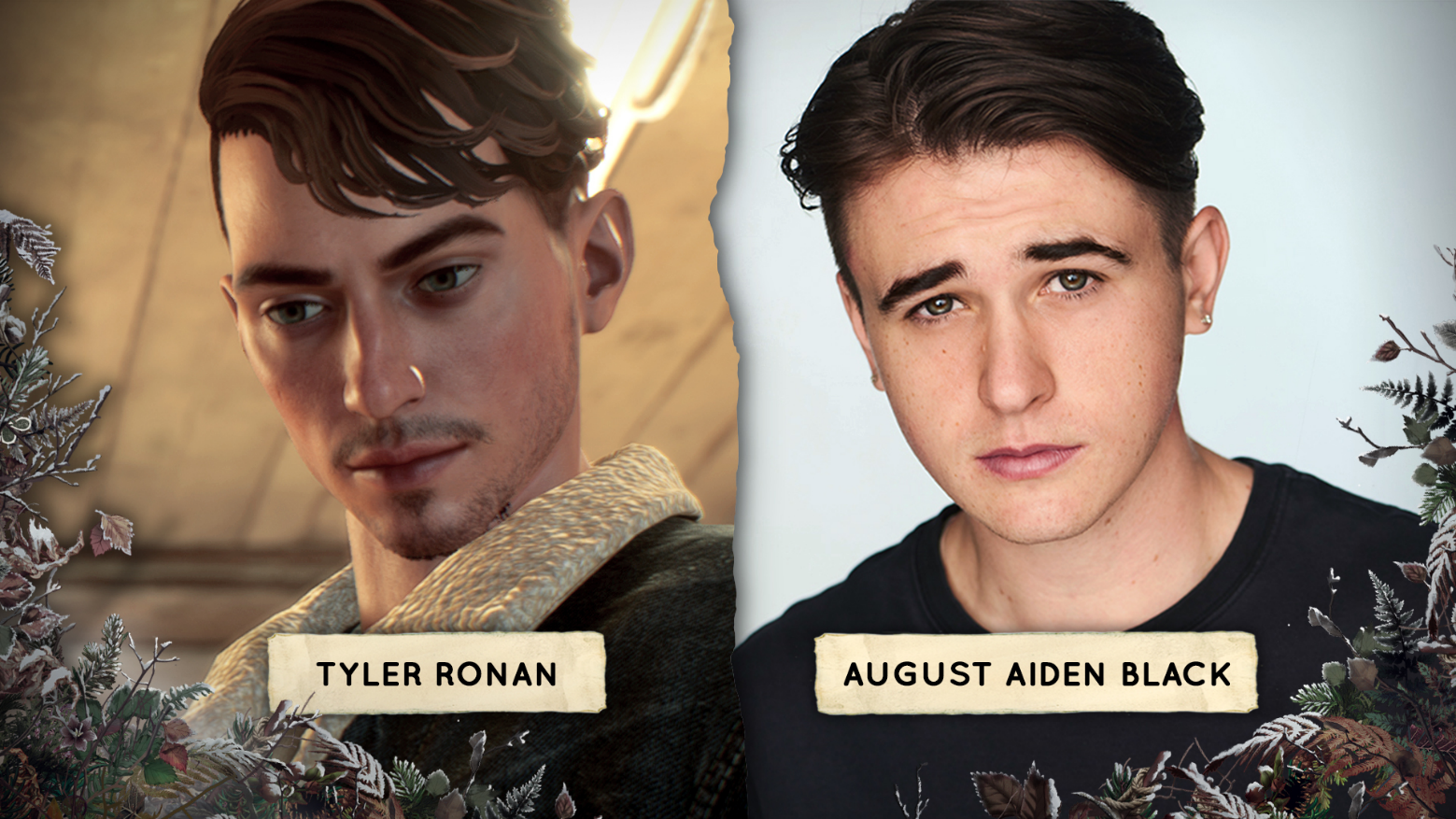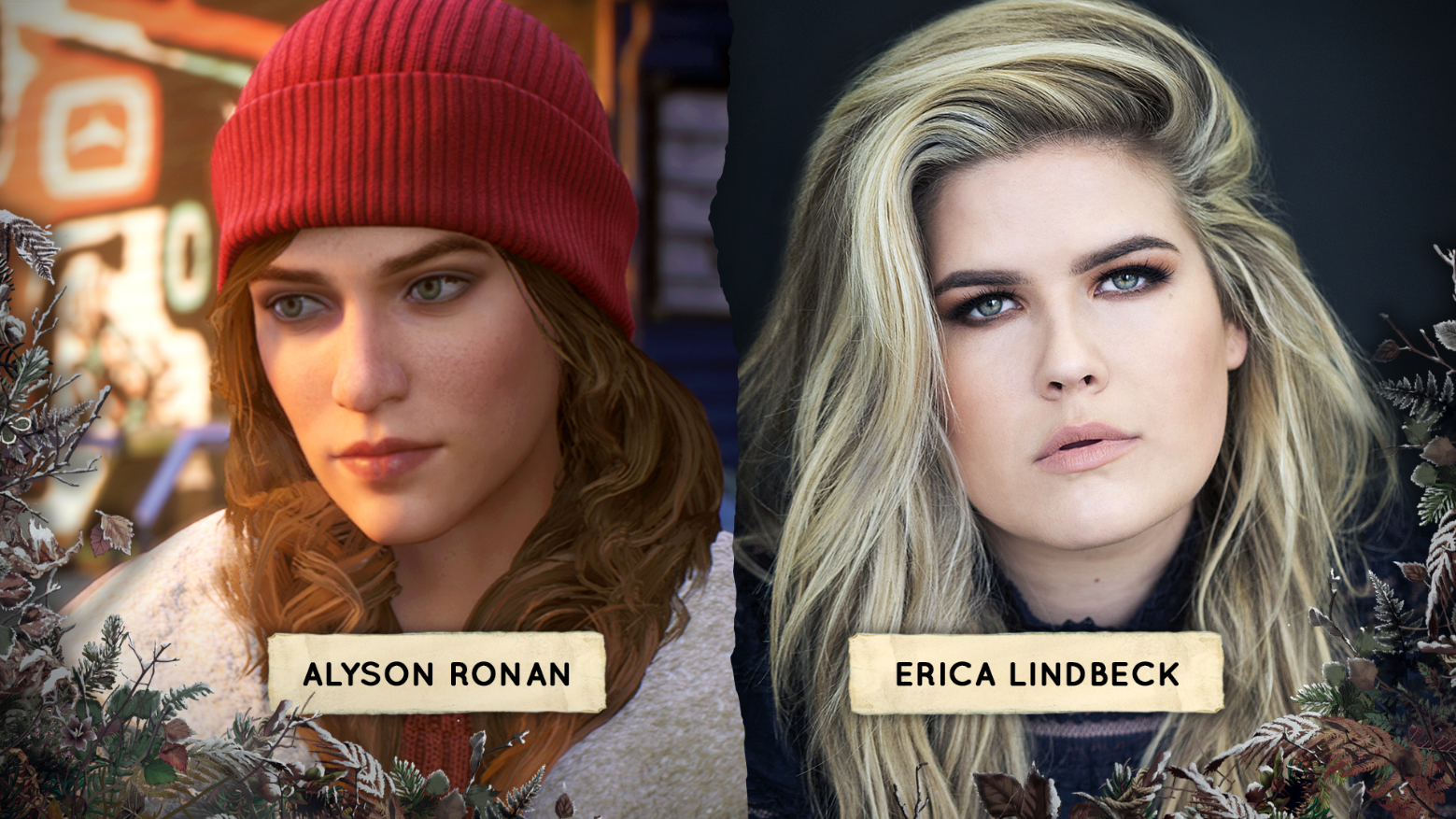 Tyler
Most of the time, VO actor casting means looking for the right voice color/pitch or the right acting. It means also finding the right person to collaborate with.

But it was different for Tell Me Why. Since Tyler is a trans man, talking about his intimate journey as a trans person, we needed a trans actor to portray him. From the very beginning when we decided that Tyler would be a trans man, we knew we wanted to find an actor that would have similar lived experience as him. It was crucial that the actor that would perform this character could relate to him and feel empathy for his journey.

We've partnered with GLAAD from the very beginning of the creation of Tyler in our effort to represent a thoughtful portrayal of a young transgender man. They've helped us understand how trans and LGBTQ+ communities have been represented in the past in medias, which was very insightful to avoid repeating the same mistakes. They've also allowed us to meet a lot of people from the community. Throughout the casting process, we've met a lot of incredible talents. We saw that trans actors can struggle to find roles, as industry-standard casting tools create systemic challenges. That's why choosing a trans actor for Tyler was also important: to give the opportunity to great actors who are not given the chance they deserve because the industry and casting processes can be too stereotyped.

In particular, working closely with GLAAD was a great help to our casting director in finding August as the voice actor of Tyler. It has probably been the most in-depth casting we've done, but at the end of the road there's a unique sincerity, fragility and force that August brings to his performances. August has also been a great source of inspiration for the character and helped finding the right tone and the way Tyler speaks and interacts with others.

August Aiden Black, has been an integral member of the creative team. We've been lucky to talk to him about many aspects of his life and transition. It was important to us that he felt comfortable speaking up about anything he wanted to share. If a line of dialog or character didn't ring true to August, then it didn't work for Tyler.
Tlingit Community
This is for the same reasons we've decided to cast indigenous VO actors for Tlingit characters. Since our story takes place in the fictional southern Alaska town of Delos Crossing and includes Tlingit characters, we wanted to make sure we portrayed their culture in a respectful way as well.

As a French studio, going to Juneau and Hoonah was crucial to feel the essence of the locations. We've been collaborating with the Huna Heritage Foundation, an organization that represents the Alaskan Tlingit community. When we were there, Amelia Wilson of the Huna Heritage Foundation helped us so much visit all the islands, meet people from the Tlingit community and get feedback on our story and characters.

The foundation helped us so much for VO casting too. We've cast Forrest Goodluck for Micheal and Martin Sensmeier for Eddy.
VO Recording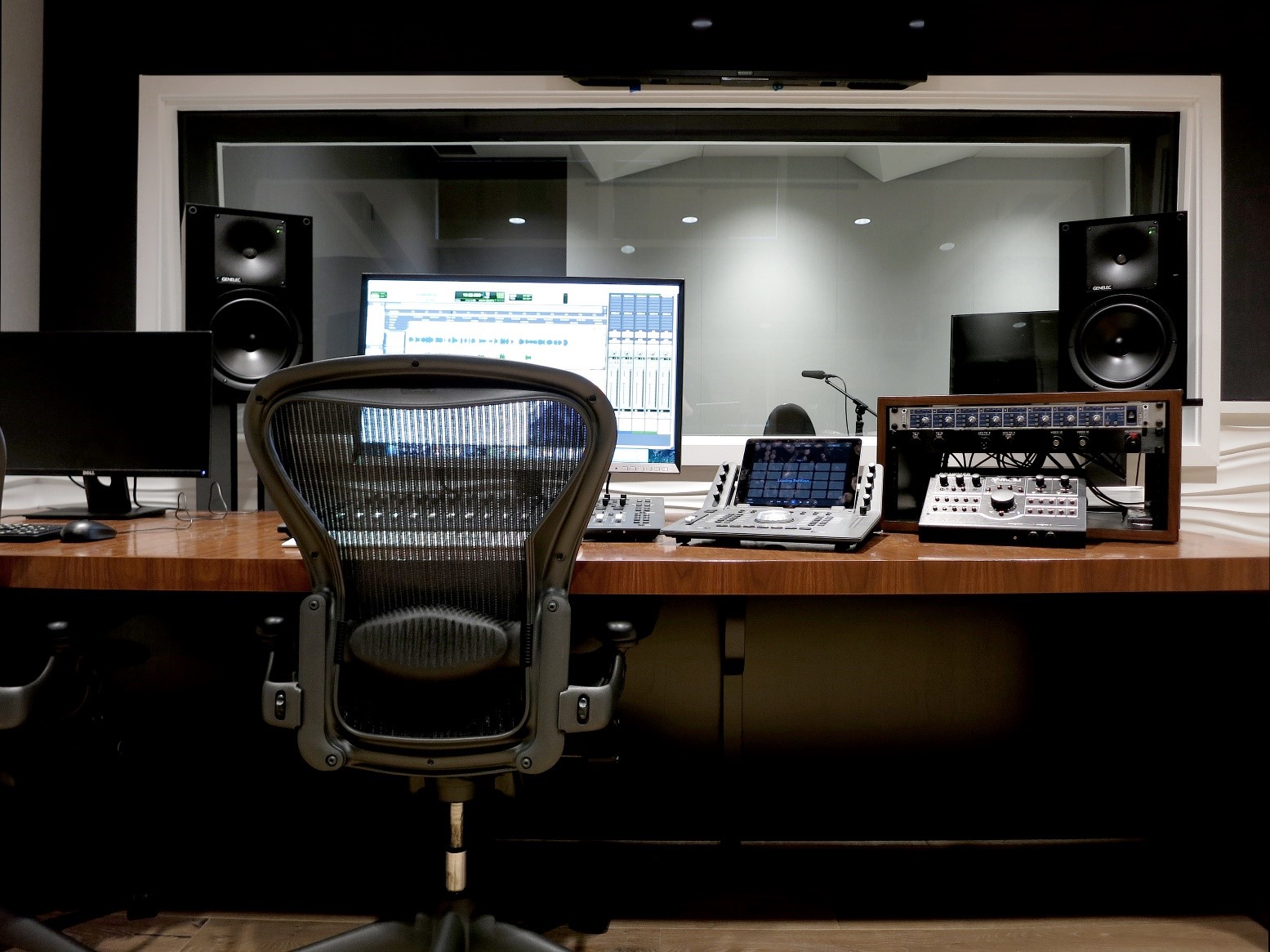 1-Microphone Choice & Test
Before starting the VO sessions, we've taken the time to test different microphones, with Erica and August voices, in order to get as close as possible to the timbre we wanted for the game. Even if it's still possible to adjust voice color and timbre in Post-Production, there are several advantages to do it:
Choosing the right microphone rather than adding Eq in Post is always more transparent

Post becomes less time-consuming. The delivered audio files color is close to the final one, so we have it as soon as they are integrated in the game.
For example, the default suggested microphone by Side LA is the Sennheiser MKH-416. But since it tended to give too much presence and aggressivity to the voices, we have finally chosen the Neumann TLM-170. This softer color matched more with the project.
August & Erica audio sample with Sennheiser MKH-416 :


August & Erica audio sample Neumann TLM-170 :
2-Microphone Positioning.
Microphone positioning during recording was also an important parameter to consider.

Most of the time, the microphone is further when recording loud voices and closer for quiet voices. But changing too much the mic distance according to the acting tends to create some inconsistency in the voice's timbre but also its dynamic. And it's annoying for narrative games such Tell Me Why because it is detrimental to the player immersion.

Our recommendation was to always keep a certain distance, as long as there are no acoustic issues - too much wet signal. It tends to keep color consistency, to reduce the proximity effect, which is not an easy task to remove if needed. And it reduced also a bit the overall dynamic, which had to be controlled anyway.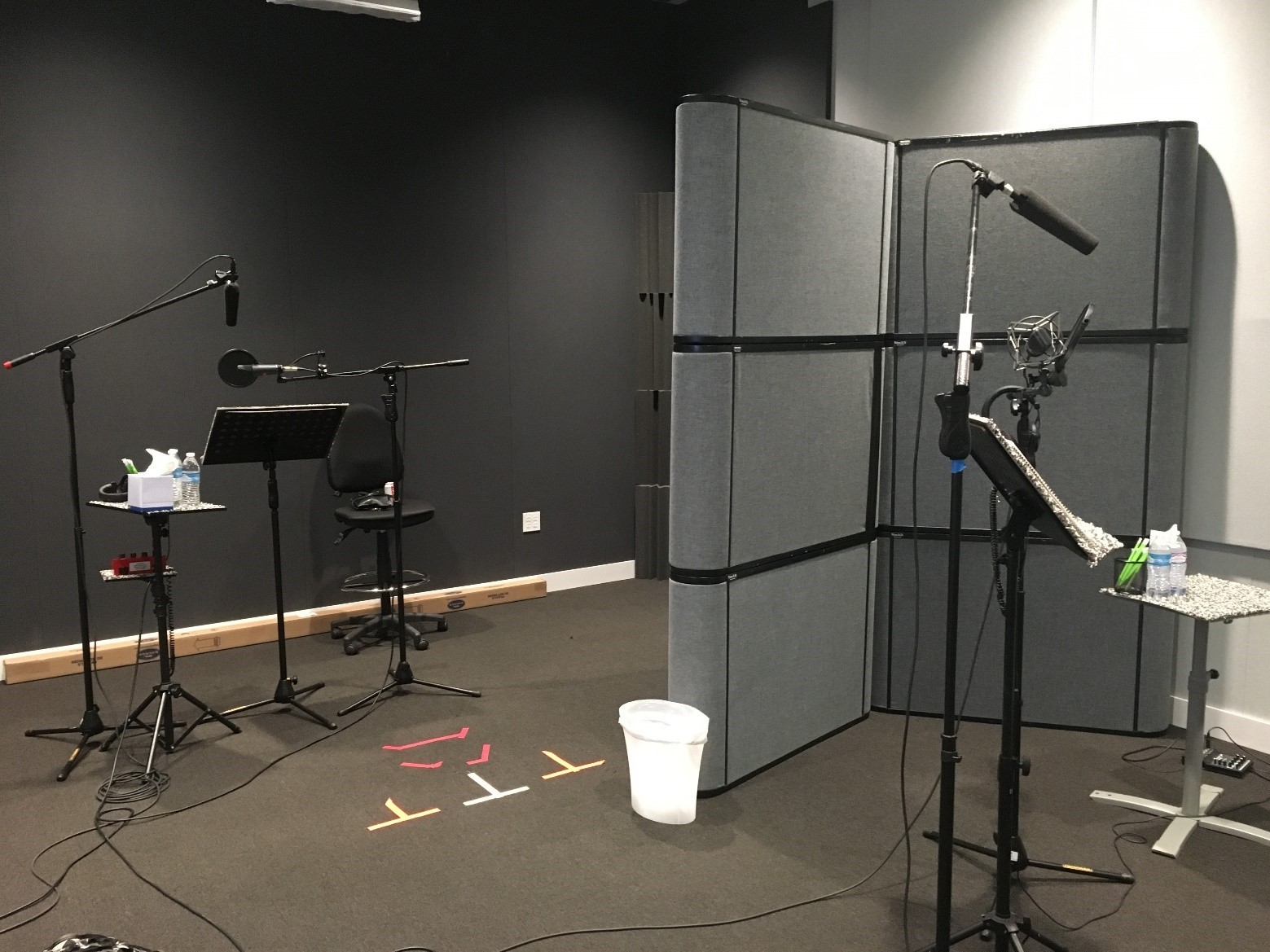 3-Using Mocap video during VO recording.
As for the precedent DontNod games, Mocap shooting and VO recording was made independently: the Mocap was shot before the VO and we had distinct actors for both of them. From a VO perspective, it meant more flexibility: we had a total freedom to cast the actors and choose the voice director. We also had a total control on the recording session : pacing, retakes,... But the drawback is that we had to keep the same creative direction for both mocap and VO. First, it meant having key people (game director, cinematic director, narrative team,...) involved in both Mocap and VO preparation and shooting. In this way, Vo actors and Mocap were directed with the same intention. They transmitted the same emotion from a narrative perspective. But most of the time, it was not enough to be sure that both would match perfectly once integrated into the game. Beyond the script and the intention, VO actors need to know the context, the pacing,... That's why we've used the Mocap video during the VO recording sessions. It was easy for the VO actors to see the body language, the distance between Mocap actors - which is essential for the acting intensity - and understand the exact timing of the acting.

Sometimes, we've used the videos for ADR: when the timing was very tricky or related to a specific body action. But it was very time consuming. Most of the time VO actors just looked over the videos to have an idea of the scene, then recorded wildly. And it was a way to keep a certain range of interpretation during VO session by the way: not fit only to what happened during Mocap shooting but try to improve it with VO acting.
4-Post-Production
There were two steps for the VO Post-Production.

The first one was handled by the recording studio - SIDE LA. It was crucial to receive audio files with enough volume consistency on one hand - ready to be used during the game production - but with enough dynamic to let us make a final treatment before the mix on the other hand. So we set up recommendations and guidelines with the studio. Broadly speaking, they had to send batch files with a -25 LUFS average without any individual normalization - it would have killed the dynamic - and a light compression to reduce the dynamic range a little bit.

-The second step was made in DontNod. First, there was a technical pass to remove all the imperfections in the audio files.

-Next, we adjusted the voice color for each character. By using Eq obviously, with sometimes timbre matching. But we used deEsser in particular, because most of the time, the voices tend to be quite aggressive.

-Then, we applied a final compression pass. It was based on presets for each character. But it always needed some adjustments according to the mixing contest: some parts were very quiet without any music, other parts were very dense on the contrary. And it was necessary to adapt this final compression to the context and adjust the dynamic range of the voices to be sure they are always intelligible. Because this is the most important thing for a narrative game: having the lines always intelligible and with a consistent volume. However, the second most important thing is to convey emotions through the acting. And applying too much compression - reducing too much the dynamic range - tends to remove contrast and subtleties, and at the end tends to make the VO acting dull.

In the next part of our audio diary series, we will look into the original music creation process. From the composer choice to music integration into the game.



MATHIEU FIORENTINI
Sound Designer | Tell Me Why
DONTNOD

Mathieu Fiorentini is a French sound designer with 12+ years of experience in the video game industry. His recent works includes titles like Tell Me Why, Watch Dogs Legion, Detroit Become Human. He is also a Wwise and Ableton Live teacher at ISART Digital.

soundcloud.com/yakiemusic