We flew to GDC, GDC flew by, now we're back and two weeks flew by since then… what? Here's our GDC follow-up!
Industry friends from all over the world joined the annual reunion, an opportunity to marvel over the year's technological advancements, learn from practical examples, and get inspired by creative achievements! Presentations and discussions captured our collective imagination and fueled our shared passion. We got to cover a year's worth of conversations around interactive audio, in three days! (This is not a proven fact, but sure feels like it!)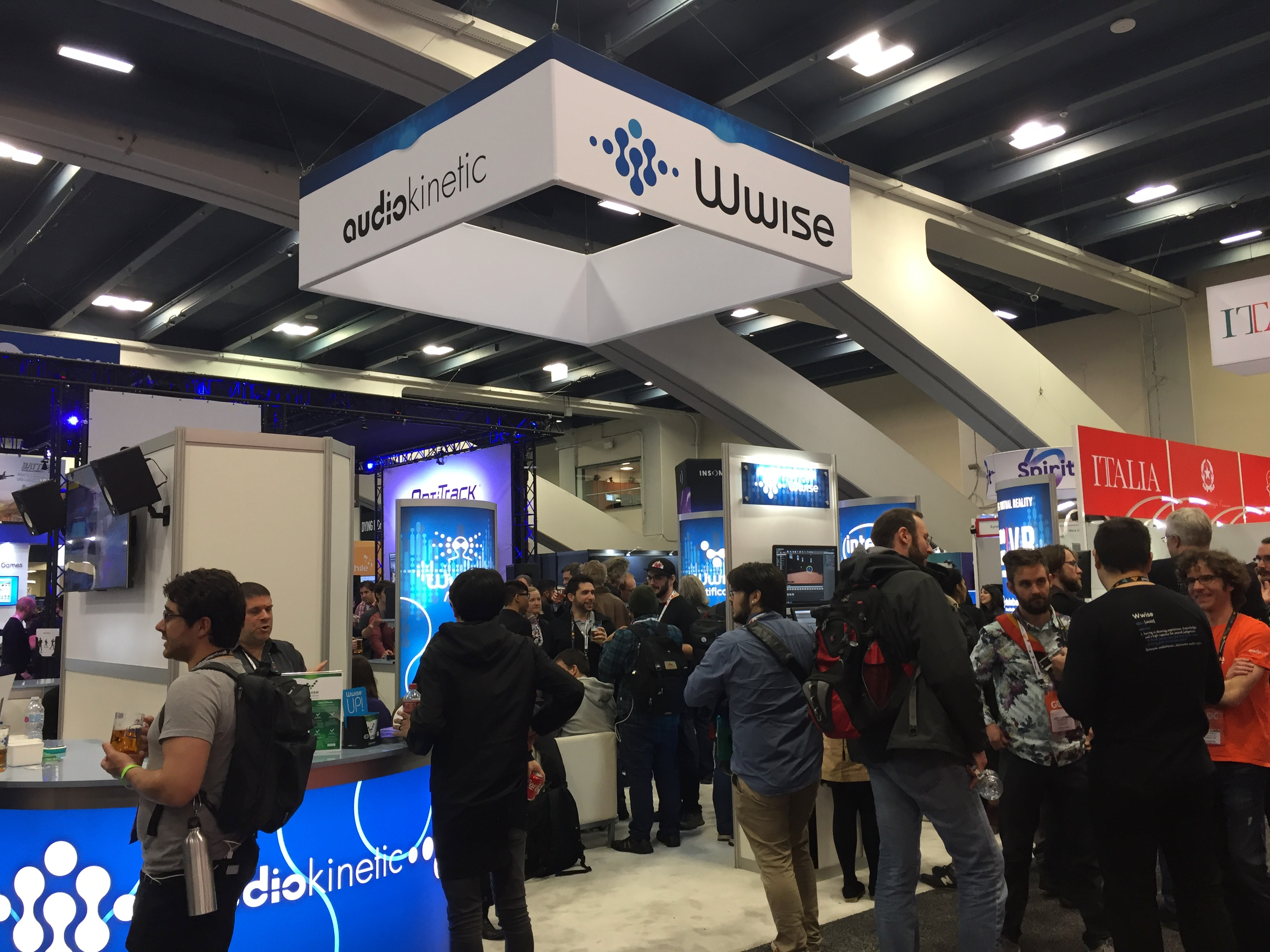 The interactive audio community is growing so quickly. This year, we met many more composers and sound designers from traditionally linear mediums, such as the film industry, who are curious about the interactive art form and committed to learning its approach, methodologies, and toolsets. Certainly, more and more artists and integrators are interested in game audio, VR, and various other interactive project types; but, many are also discovering how they can incorporate interactivity into their works. This is not surprising. Throughout the history of game development, other industries would look to the gaming industry for inspiration and technical direction.
"Today, the most advanced interactive audio applications and integrations come from the gaming industry, an industry that has built fantastical worlds where the impossible has always been possible." said Martin H. Klein, Audiokinetic President and CEO.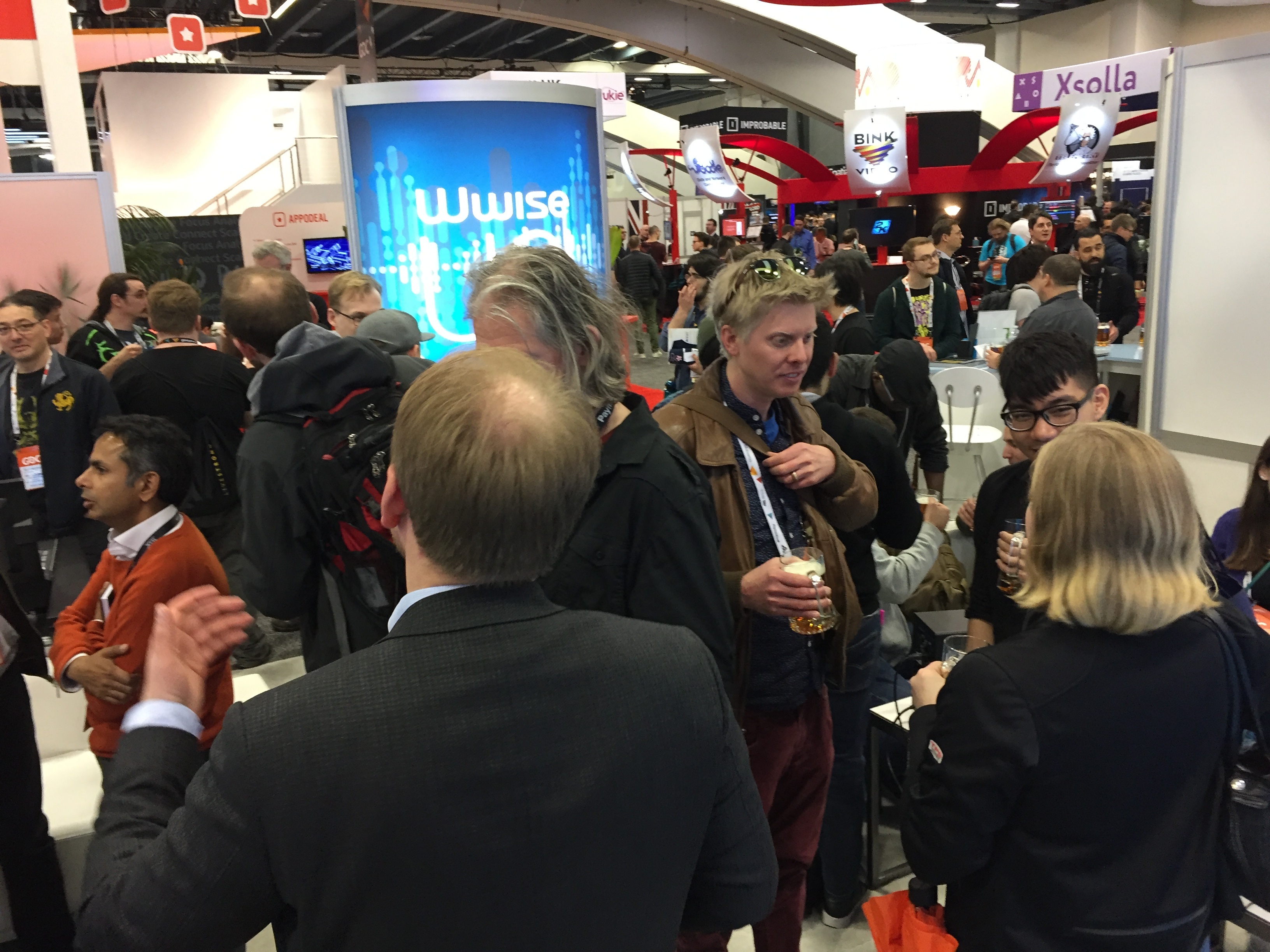 As our industry grows and evolves, it is very important for us to continue focusing on education by expanding and developing Wwise Certifications and building on resources that strengthen and empower the interactive audio community, such as the Audiokinetic Blog, the Audiokinetic Video Channel and the Creators Directory. These resources are intended to inspire, spark discussions, encourage collaborations, and help us all stay connected, informed, and current in our rapidly expanding and advancing not-so-niche-anymore segment.
Also in line with our 'empowering the audio community' slogan, this year we launched our Community Partner Program at GDC. We all win when we collaborate, and we all benefit and progress more quickly as an industry with an open mindset that is all about sharing. Community plug-in developers from around the world can now register their Wwise plug-in to sell it to Wwise users on our Audiokinetic Store.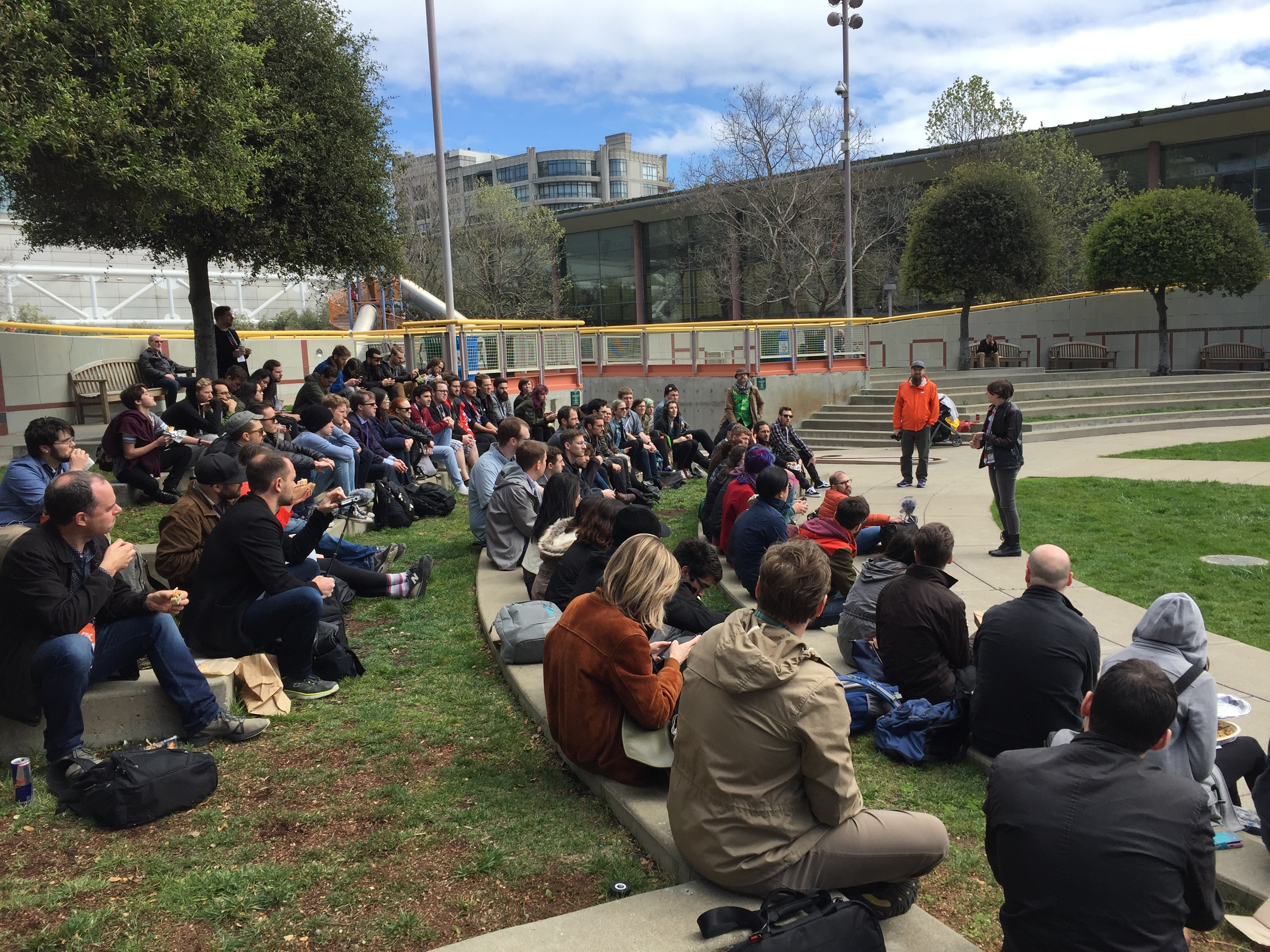 It all started with game audio, and, at GDC, you can quickly see how tight-knit the game audio community is. From early morning game audio Sightglass coffee meet-ups and Carousel Con brown paper bag lunches, to late evening karaoke, parties, and get-togethers, we loved spending time with long-time friends, putting names to faces, and making new associates.
Composers, sound designers, programmers, directors, and producers from around the world stopped by our booth to chat with us about interactive audio and their projects. We had so much fun learning about the fascinating ways they have been using Wwise to achieve their creative and technical goals, and sharing and demoing new features and concepts we've been working on.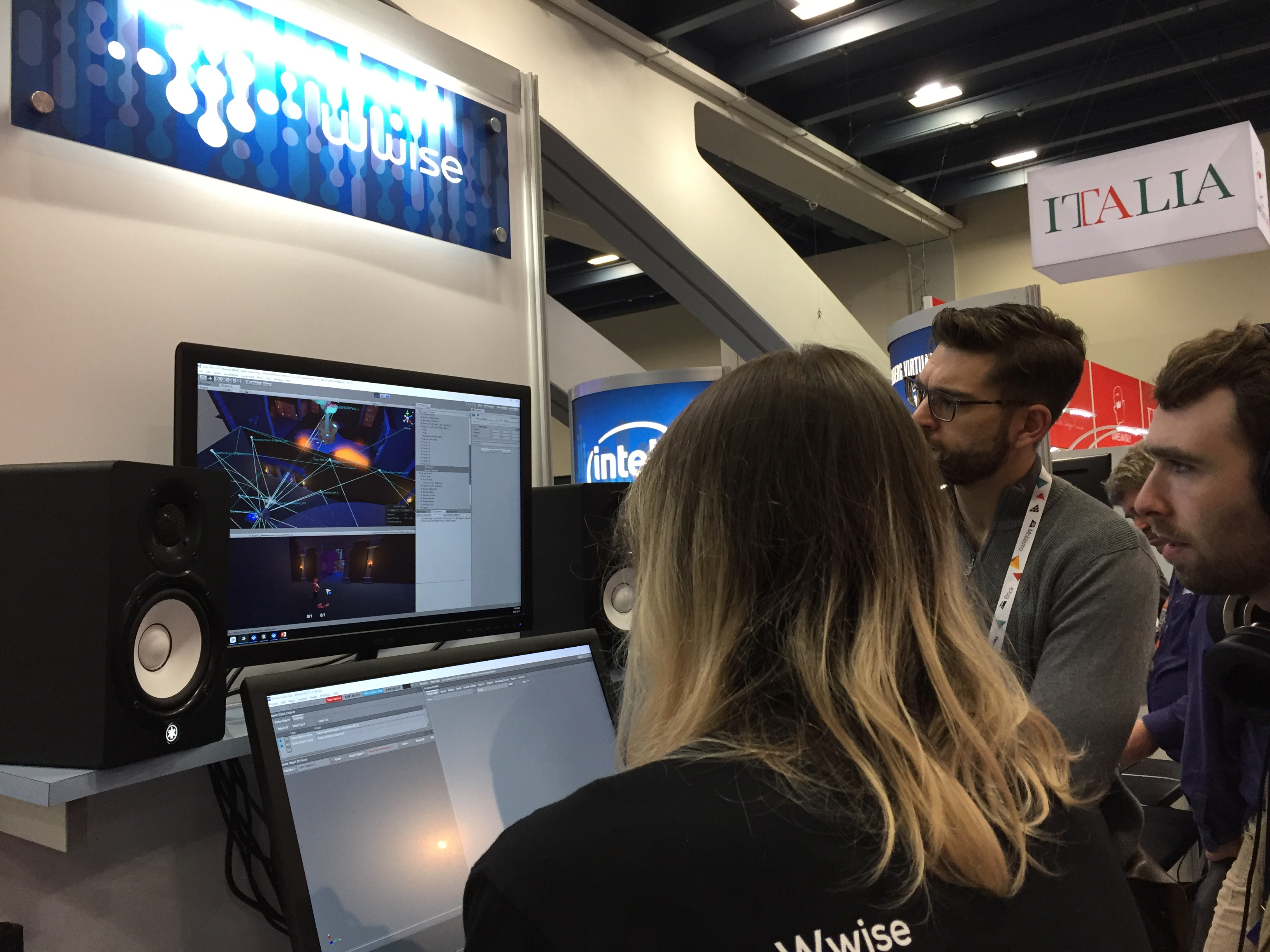 Composers were loving the interactive music system and very excited about our upcoming features and workflows. Sound designers, as usual, were thrilled about our spatial audio features, as well as the soon-to-come Granular Synth. Unity users were delighted about experiencing the Wwise Adventure Game. While we demoed a plethora of new Wwise features and improvements, as well as plenty of exciting new developments in the works, it amazed us to see how popular the new Dark UI was at GDC!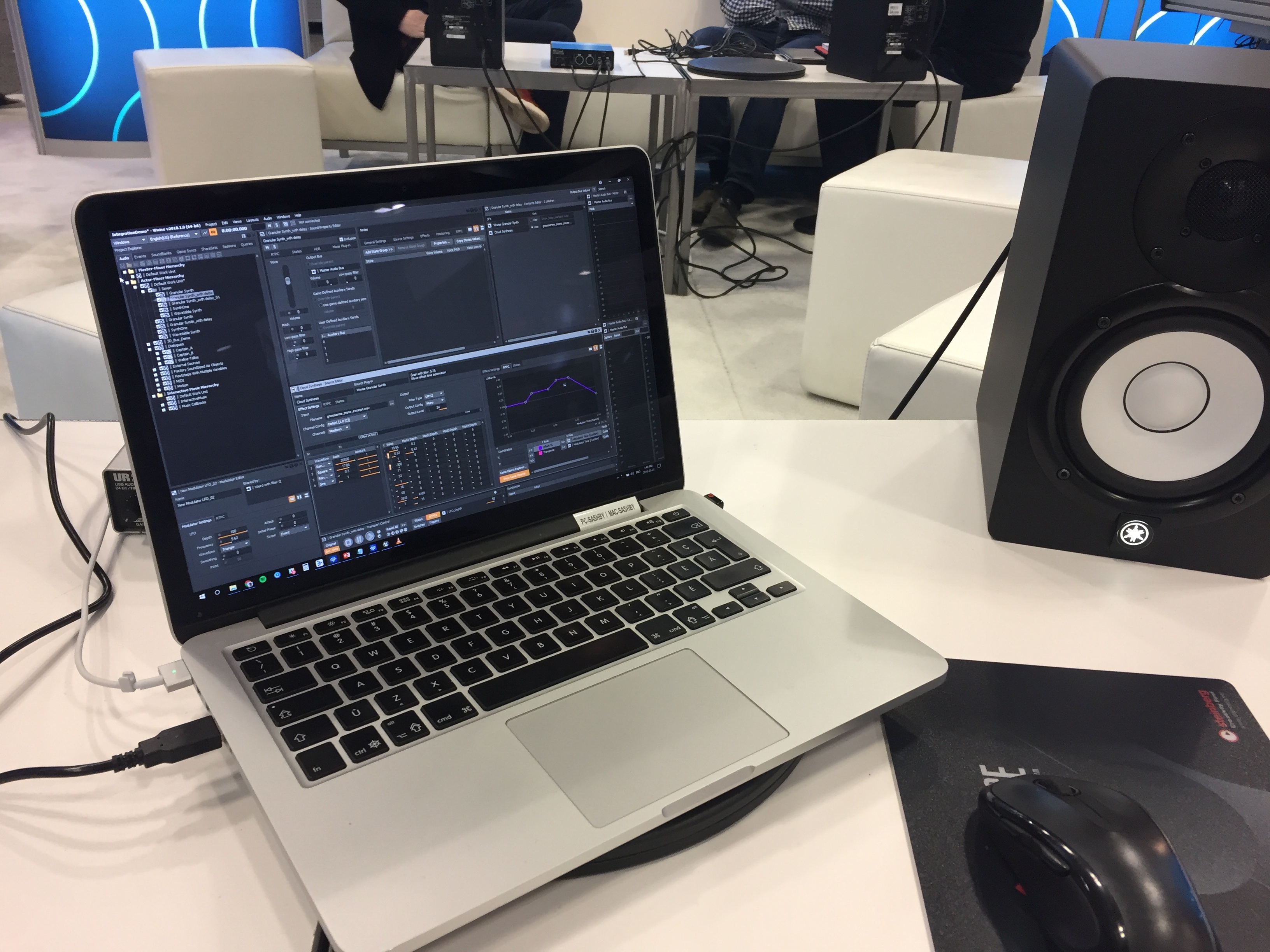 Here are a few personal GDC experiences from our team!
Beinan Li, Product Expert - Greater China
This year at GDC18, I met many more Chinese developers than any other year, and Audiokinetic's Team China was proud to demo new Wwise features and improvements to them. It was also to our delight to see a few Chinese titles powered by Wwise, featured at the Epic booth and various others. GDC sessions are always interesting to attend. This is where developers exchange ideas in a more formal manner, and this year I was happy to see some innovative technology from China at the sessions. GDC allows the industry to come together from all over the world, and it is this international gathering of works and ideas that makes it so inspiring and worthwhile.
Benoit Santerre, Wwise Integration Manager
It's hard to summarize my first GDC experience in a few sentences. There were so many highlights for me: seeing so many cool Wwise-powered projects presented on stage during the State of Unreal keynote, like Star Wars: Secrets of the Empire or Rocket League, sharing a beer with the super friendly people at Unity at our booth, presenting the Wwise Adventure Game with Mads and Jacob, and so much more. But, my biggest takeaway is just how awesome it is to finally meet the game audio community in person. People are so positive and supportive, but also always wanting us to improve Wwise and providing us with excellent suggestions. I come back to the office wanting to implement everything we discussed at our booth!
Bernard Rodrigue, Director of Development and Remi McGill, Senior UX Designer
We interviewed a number of experienced and some newer Wwise users to get their insights on their current usage of Wwise and their feedback on future user experience workflows and designs we are working on for long-term improvements in Wwise. We really appreciated all the feedback. It helped us validate our direction as well as guide us towards more considerations that can be included in our designs. We were also continuously impressed by how people were using Wwise in such creative ways we had not anticipated. This was a great opportunity for us to get honest individual feedback, which we will absolutely use as we continue to evolve the Wwise user experience!
Thalie Keklikian, R&D Software Developer
GDC18 offered me a lot of firsts. It was my first GDC, and I was overwhelmed by the amount of things that were available for us to do. The south expo hall was out of this world; the oculus booth was bigger than my apartment! I tried to go to as many events as possible, but it was impossible. I favored roundtables over sessions, and this means that I have a long list of sessions to watch on the GDC Vault. Mornings at Sightglass were great for knowing what to be excited for or what to attend on a particular day, CarouselCon was fun because we got to hear about what some audio people were working on at the moment, and the women in the audio roundtable were enlightening. I'm glad that I was able to attend the women in audio roundtable at least once (thanks to everyone that opened up). GDC18 was also my first time attending a conference as a working professional, and my first time experiencing what it's like to be a part of the audio community—I felt like you were all really welcoming and helpful to each other, and I tried to talk to as many people as possible, even though I am pretty much an introvert. I hope to have met the expectations of my peers and of everyone who came to see me at the Audiokinetic booth for Spatial Audio or Granular Synth demos! Lastly, it was also the first time I presented outside of school presentations. I gave a presentation at Dolby's booth on Wwise Spatial Audio using our Unreal demo environment, Wwise Audio Lab. Thank you to everyone who came and listened to me and I hope you discovered something interesting or learned new tips about Spatial Audio. I was told I had the highest attended Dolby booth presentation! So, overall, GDC18 was an amazing experience and I am happy to have been a part of it. It's mostly thanks to all of you Wwise users out there, so thank you very much!

In a nutshell, our combined GDC team experience can be summarized as such...
Day 1 - Setup madness.
Day 2 - Major excitement and plenty of amazing discussions!
Day 3 - We're loving the crazy GDC lifestyle.
Day 4 - Starting to get a little tired physically but still in denial and mentally charged.
Day 5 - How did we make it to our flight?
Until next year!