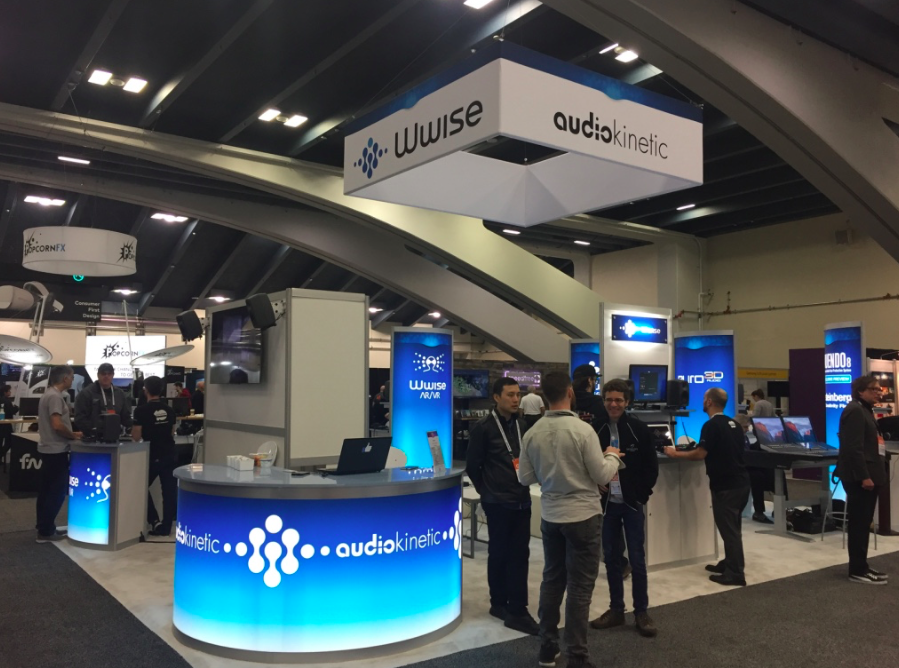 First day - setting up the sleek Audiokinetic booth
Another incredible Game Developers Conference wraps up, fueling the gaming industry with inspiration and vitality. Both official and community-driven meet-ups seamlessly contribute to its wonder. From early morning #gameaudio coffee at Sightglass, where the audio community is brought together by Damian Kastbauer over podcasts filmed by Luca Fusi and is motivated to share knowledge and experiences, to lunch hour #gameaudioGDC get-togethers for the CarouselCon, organized by Matthew Marteinsson, where the community demonstrates its collaborative commitment towards contributing ideas and sparking game and interactive audio discussions via inspiring micro-talks.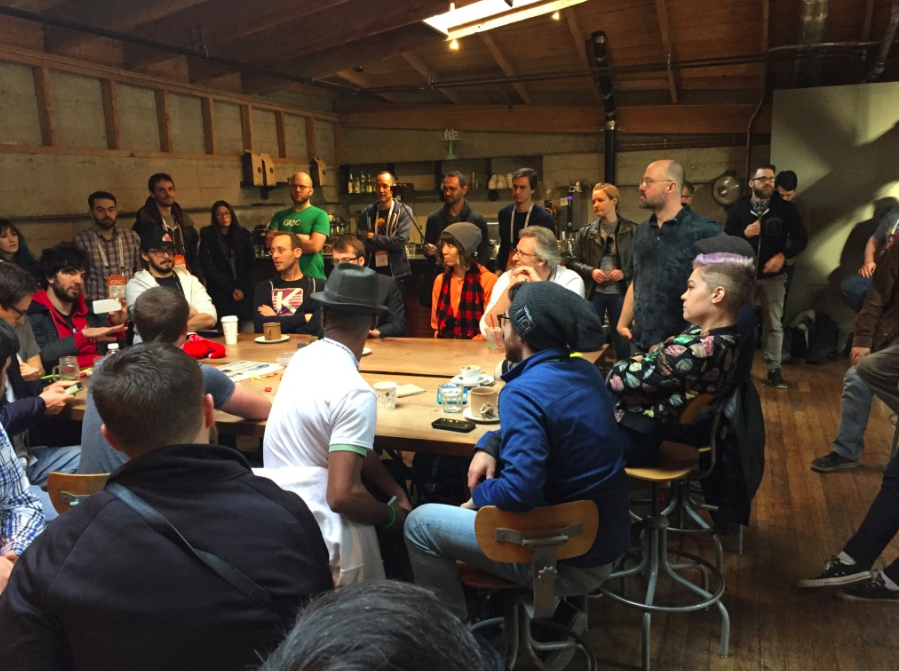 Sightglass #gameaudioGDC morning coffee meet-ups made us look forward to waking up early :)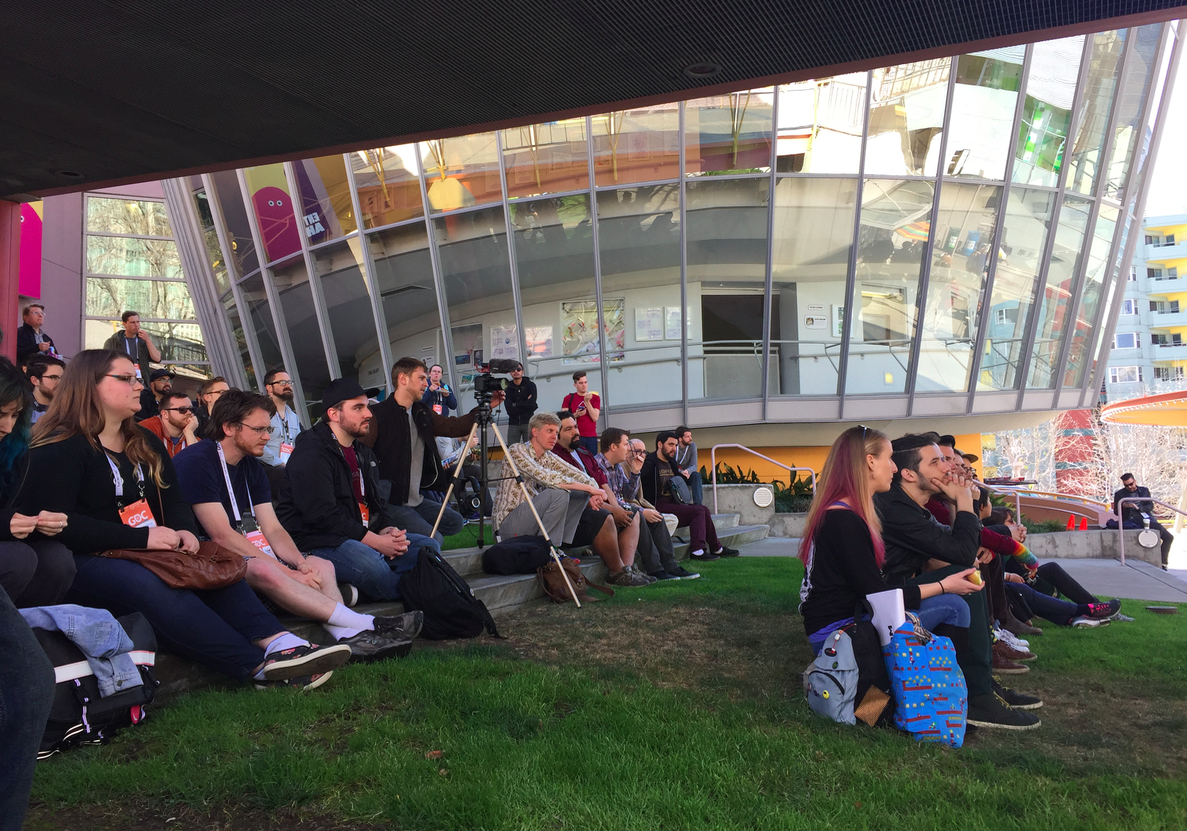 #gameaudioGDC CarouselCon every day at lunch time!
GDC was jam-packed with audio-centric talks, demos, presentations, and events. The AudioTrack at this year's GDC17 was outstanding. The stimulating roundtables provided everyone with an opportunity to raise significant industry-at-large issues and game audio specific topics, while the Game Developers Choice Awards and the Game Audio Network Guild Awards provided platforms for the recognition of the incredible work and achievements of our interactive audio peers, which we all needed to take a moment to celebrate and congratulate together, in appreciation.

Annually, GDC provides us with the opportunity to all come together, learn from one another, and create meaningful friendships with people who share our passion. We get to meet those who we have long admired, and help newcomers orient themselves as they join us on our collective journey. For us here at Audiokinetic, we look forward to sharing what we've been working on every year, and getting the community's invaluable feedback, in person!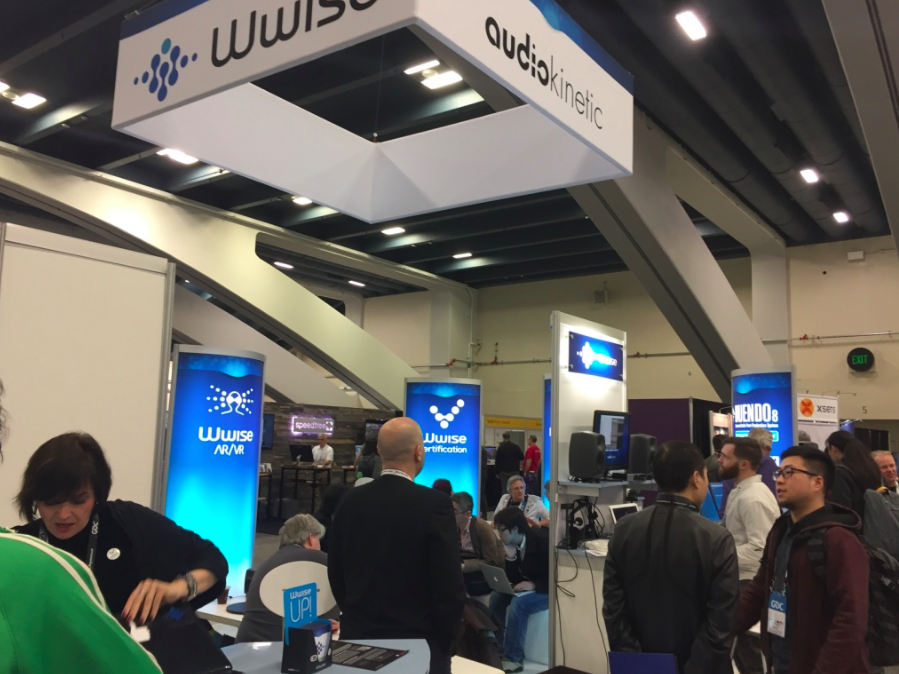 Spatial audio was a big topic this year, as we all knew to expect. From its early beginnings, Audiokinetic has been a key player in the development and advancement of spatial audio, offering solutions from ambisonics, Convolution Reverb, and other mixer plug-ins, to supporting third-party binaural technologies. Today, spatial audio is quickly becoming central to the success of any AR/VR/MR project and interactive media projects at large, and our team at Audiokinetic was proud to introduce pioneering spatial audio technologies that truly empower the audio community.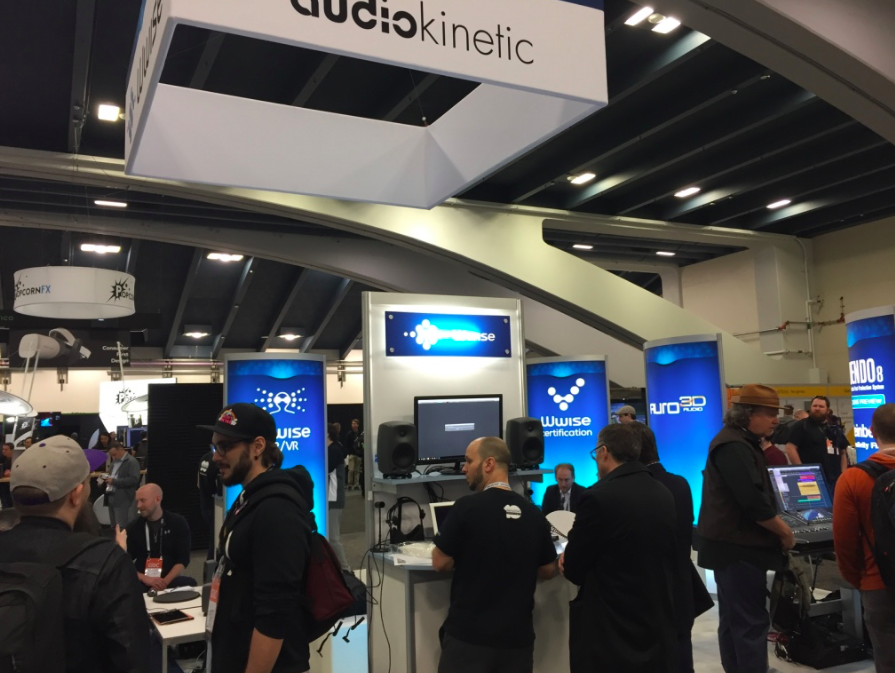 Here's a quick overview recap of what we presented at GDC17. We demoed, for the very first time, a selection of spatial audio features that are part of a new family of products called Wwise Spatial Audio™. This toolset will include built-in features, as well as in-house and third-party plug-ins, specialized in virtual acoustics with geometry-informed reverberation. Features will be incrementally released with 2017.1 and beyond. We have always taken a collaborative and practical approach at Audiokinetic, and the Wwise Spatial Audio toolset will follow the same logic. With a quickly evolving comprehensive pipeline towards an all-encompassing yet flexible spatial audio workflow, our unique approach to spatial audio will continue to empower sound designers and interactive audio professionals by inspiring and enabling artistic aesthetics, as opposed to limiting results on pre-calculated algorithms.
Our Audiokinetic team would like to thank you all for your continued support and encouragement and, especially, for all your input which always helps us determine how to best support you with the most advanced audio solutions for your projects. We truly love hearing about what you are working on, so let's continue to stay in touch throughout the year!
Highlights from Audiokinetic demos at GDC17
Wwise Audio Lab™
Wwise Audio Lab (WAL) is a game-like, 3D multi-room environment where audio teams will be able to test and optimize their spatial audio projects with A-B comparisons in VR and on-screen. The Audiokinetic team will be utilizing this environment to demo its own spatial audio product line, Wwise Spatial Audio. The Wwise Audio Lab is designed to showcase various technologies simulating acoustics and spatial audio phenomena.
Wwise Spatial Audio™
3D Busses
3D busses are built into the framework of the audio engine. They provide the ability to directly submix groups of sounds and/or reverb, anywhere in the signal flow, and position these submixes in the 3D world. This makes them a key component in implementing spatial audio, such as dynamic room effects and portals, in Wwise.
Wwise Reflect™
Wwise Reflect is a plug-in that renders geometry-informed dynamic early reflections, based on proximity to walls, floor, and ceiling. Reflective surfaces simulate sound absorption by applying filters to delayed sources, and diffusors are attributed per room to bridge the early reflections with the late reverberation.
Oriented Environmental Effects
Ambisonics support in our renowned Convolution Reverb plug-in enables the use of oriented ambisonic impulse responses in-game. With oriented reverbs, Wwise offers scalable solutions as alternative options to Wwise Reflect. Reverbs with directional content may be dynamically oriented with respect to the game environments that they simulate, thanks to the 3D bus framework.
Ambisonics Sources Implementation and Mixing
The full ambisonics pipeline, from audio files to the run-time positional mix, allows one to implement ambiences with orientation that is consistent with the 3D world, using built-in spatial rotation in the Wwise engine.
Game Engine Integration (UNREAL 4)
Setting up and defining space at the game engine level is now made easy using acoustic profiles of materials (acoustic textures), spot reflectors, shoebox-driven reflections, ray-cast driven reflections, portal simulations, and more.
Here are a few spatial audio blogs that were published as a series just before GDC17. They provide a background for what's coming up in regards to future spatial audio features and blog content!
The new Wwise Authoring API allows the comprehensive integration of Wwise into any engine, tool, or application. It is usable from any Internet-capable language, operating system, or environment.
A special thank you to our partners
Audiokinetic is proud to partner with industry-leading audio developers Auro Technologies and Steinberg. Our partners demoed their technologies at the Audiokinetic booth. More details on our partners.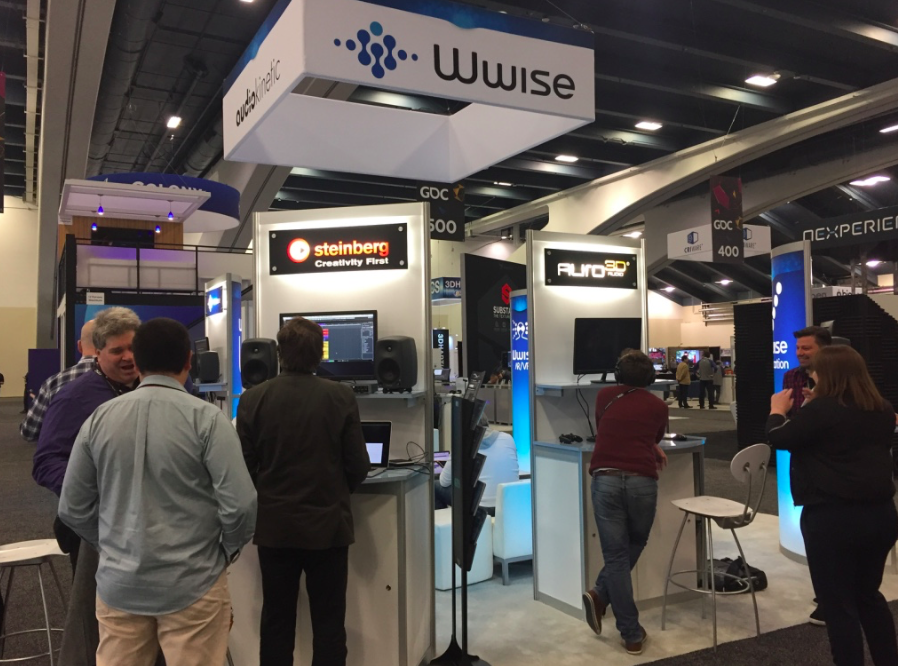 A special thank you to our clients that presented demos this year
Guy Whitmore, PopCap - Bejeweled Stars
Steve Green, Giant Squid Studios- ABZÛ
Luca Fusi, PopCap - PvZ: Heros
Paul Weir, Earcom - No Man's Sky
Richard Ludlow, Hexany Studios - Into the Stars
Stay tuned and subscribed to this blog for all the latest on interactive and game audio and a ton of community inspiration! See you next year!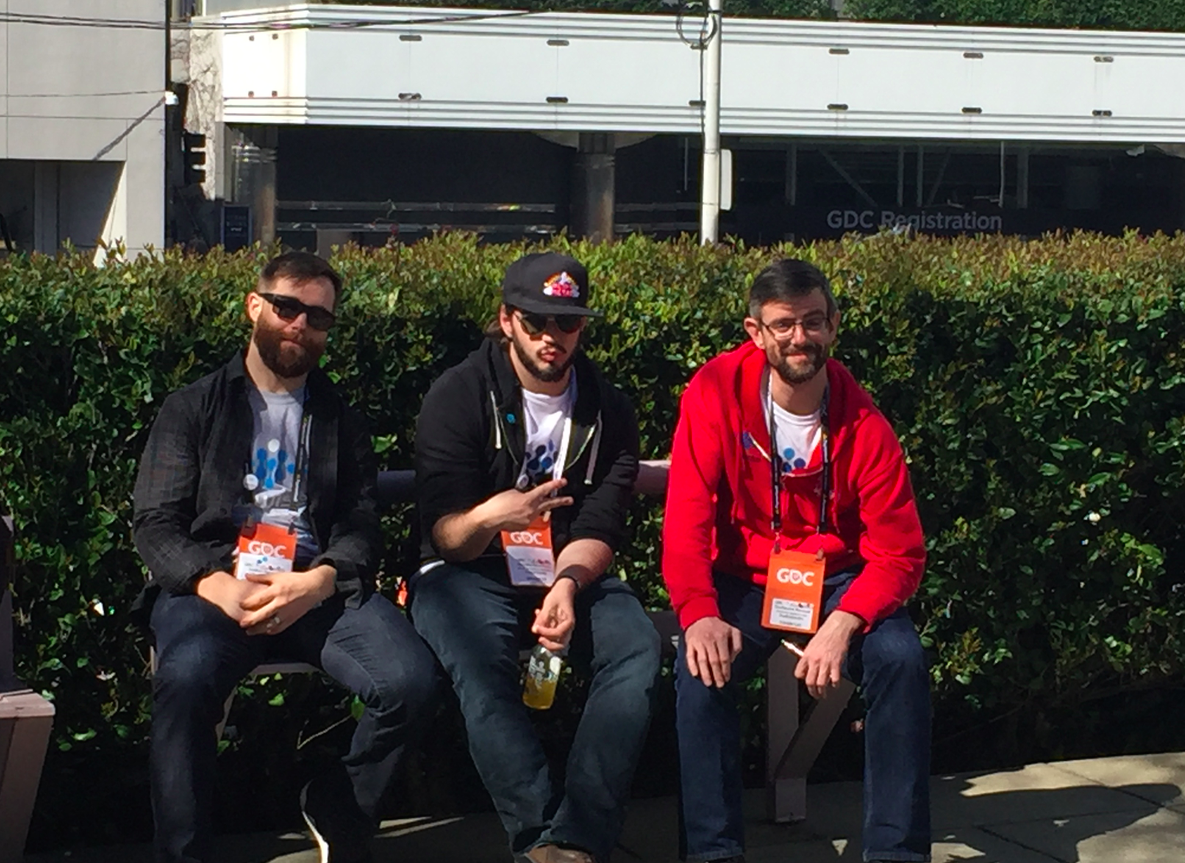 Three musketeers from Audiokinetic at CarouselCon - from left to right, Nathan, Maximilian & Guillaume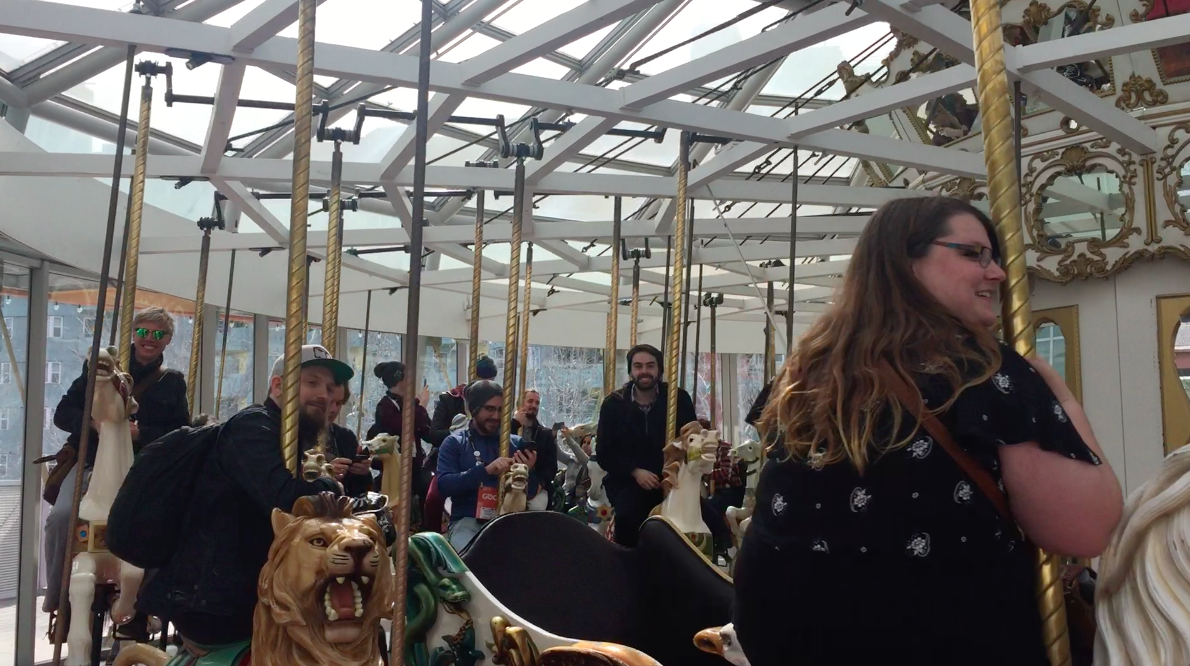 #gameaudioGDC yearly carousel ride
Interested in sharing your knowledge and experience with the interactive audio community?
Write for the Audiokinetic blog!