Something new is coming to Wwise!
What's up?
We feel that it is important to always be one step ahead of the audio technology game, to make sure that the games industry has access to the best audio creation tools around.
Over the past few years, Wwise has proven itself to be the leading global provider of cross-platform audio solutions for the gaming and interactive media industries, including AR/VR/MR and Location-Based Entertainment. One of the key areas of focus when it comes to innovating for Wwise is the development of plug-ins. Be it, Convolution, Reflect or any of the SoundSeed plug-in offerings, Audiokinetic has sought to add as much as it can to Wwise, and plug-ins is 'where it's at'.
"But, what are you getting at?" you may ask. Well, I think you know where we are going with this… and yes… it's true… Audiokinetic has done it AGAIN! That's right, announcing a brand new source plug-in for the most powerful interactive audio authoring toolset on the planet!
The Reaggaetone Generator!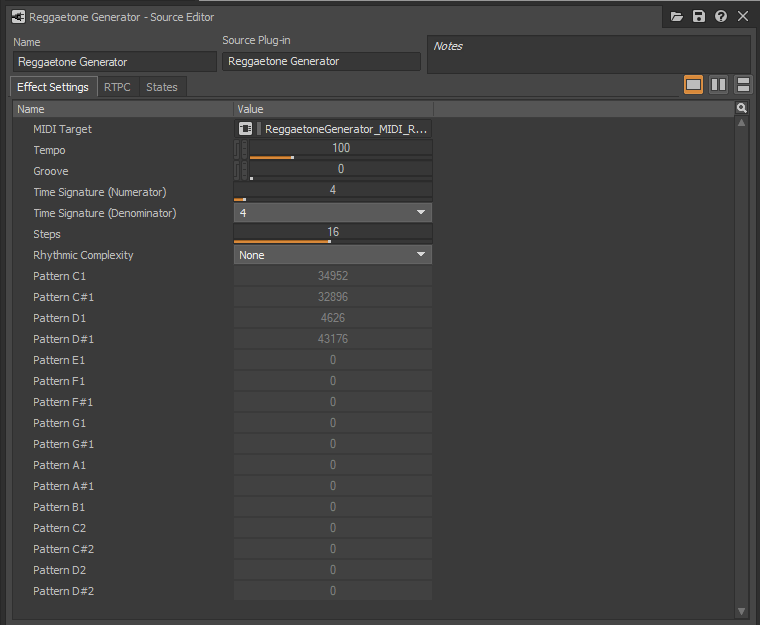 Backed by popular demand
I know, I know… it's been a long time coming, and we are very happy to announce that the Reggaetone Generator source plugin is finally complete AND IS AVAILABLE RIGHT NOW! Yes, you read this right, you can now download the Rggaetone Generator!
But… what does it do?
What does it not do is more like what you should be asking!
Here the low-down:
32 step MIDI sequencer for when those sweet latin beach beats need somethin' extra

Choose from a vast list of some of your favorite time signatures like : 4/4 and 8/8!!

A Rhythmic Complexity property that lets you switch from normal reggaeton, complex reggaeton, or simply lets you author your beats manually (disclaimer: you may have to brush up on your binary to decimal number conversions)

Import your own samples

Set your own tempo

(Patent Pending) groove parameter to really "humanize" your reggaeton and make it sound as real as it can! It's like you were actually playing it live!
I think I want to try it out..
Awesome!! It's available for a limited time only. Download the Reggaetone Generator, and install it through the Wwise Launcher before the end of April!
Note: Requires Wwise 2018.1.6, comes with no guarantee.

P.S. April Fools!
JOEL ROBICHAUD




Software Developer




Audiokinetic
Joel Robichaud is a Software Developer with a combined degree in Computer Music and Computer Science. He is part of the Wwise Experience team at Audiokinetic and works primarily on user-facing software such as the Wwise Authoring and the Wwise Launcher.
MAXIMILIEN SIMARD POIRIER




Product Expert / Developer Relations




Audiokinetic
Maximilien is an avid interactive audio designer for games and VR. He is currently based in Montreal and holds the Sound Designer in Residence position at Audiokinetic. Max holds a bachelor's in Digital Music from the University of Montreal, and he has worked on a plethora of projects throughout his career. Some of his credits include: Time Machine VR, mobile smash hit Pewdiepie's Tuber Simulator, and other distinguished contributions such as the soundtrack of Resident Evil VII. As a passionate musician and gamer, Max always aims to push the envelope with interactive media, and contribute to the community by sharing knowledge and experiences. Max is a frequent game audio and virtual reality lecturer. His most recent speaking credits include: Montreal ComicCon, Symposium IX, Montreal International Games Summit (MIGS), Concordia University as well as the University of Montreal.